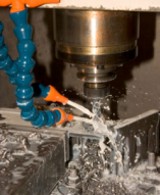 Metalworking fluids (MWF) serve to lubricate, cool and protect metal surfaces from corrosion when being processed (Fig. 1). In the course of time the quality of MWF emulsions deteriorates which is manifested in the separation of the oil-water emulsion. This shortens their life, increases the amount of waste and purchasing costs, reduces the life of the cutting tools, and has a negative effect on manufacturing tolerances. The main reason for the deteriorating performance of the MWF is the growth of bacteria and fungi which attack and disintegrate the organic components of the emulsified cooling lubricant (mineral oil, tensides, etc.). If they contain any pathogenic germs, these may trigger respiratory illnesses, skin irritations, or even allergic reactions in staff that come into contact with them. Therefore, MWF manufacturers use toxic biocides to keep microbe activity under control.
Restricted use of biocides and demulsification chemicals
In the future it will no longer be possible to ensure the stability of MWF emulsions simply by adding hazardous chemicals due to increased restrictions concerning MWF contents, the implementation of the REACH directive and stricter guidelines in the field of wastewater. Furthermore, with a view to ecological and economic aspects the addition of chemicals for the breakdown of MWF emulsions is no longer appropriate. After being broken down into emulsion phases, they need to be removed and disposed of in a time-consuming second step.
Environmentally-friendly technologies for increased life
The aim of the research work carried out at the Fraunhofer IGB is therefore the development of efficient, cost-effective, and clean technologies to increase the life of MWFs without the addition of toxic chemicals, and to improve their quality. In addition, the aim is to design the disposal of the MWF in such a way that part of the MWF can be recycled. For this reason, IGB's department Physical Process Technology is investigating new physical technologies such as focused ultrasound cavitation, the application of pulsed electric and electro-magnetic fields, as well as sono-chemical and wet oxidative processes.