Modern decentralized wastewater treatment as exemplified by the membrane bioreactor plant Heidelberg-Neurott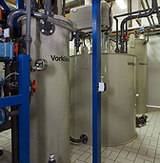 The small village of Neurott situated in a rural area south of Heidelberg has a population of 60 and is made up of farms and an inn with approximately 30 population equivalents. In the past, domestic wastewater has been collected in septic tanks whose contents had to be disposed of on a regular basis.

The Fraunhofer IGB now has built a modern membrane bioreactor plant (Fig. 1) of approximately 100 population equivalents which was set into operation officially in December 2005. The plant where wastewater and rainwater are separated is intended to showcase the effectiveness and profitability of the DEUS 21 concept. The project is supported by the German Federal Ministry of Education and Research (BMBF).