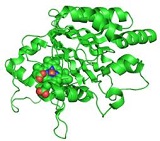 Enzymes as biocatalysts offer a number of advantages for a sustainable chemical industry, such as mild reaction conditions, biodegradability, high selectivity and therefore low by-product formation. Fraunhofer IGB has been working for more than ten years on the screening for new, industrially usable enzymes as well as their optimization and production. Numerous projects with companies in the chemical and pharmaceutical industries have already been successfully completed.
Identification of suitable biocatalysts for a sustainable industry
Enzymes are already widely used in the food industry, the textile industry, the cleaning and detergent industry, the chemical industry and the pharmaceutical industry. New enzymes with tailor-made properties are constantly being sought for increasing sustainability in these branches of industry. The main focus is on the identification of new enzymes with a broad substrate and product spectrum, high stability against extreme temperatures and pH values and increased longevity.